"Leland Sundries, a band from New York led by Nick Loss-Eaton, is dedicated to storytelling in a way that recalls Woody Guthrie and his Folkways brethren. [Their] scrappy Americana will get you longing for empty two-lane highways and kudzu-encased back porches." 
- Amanda Petrusich, New York Times, November 4, 2010
"A-… genius." 
- Robert Christgau, NOISEY, July 22, 2016. Full review: https://noisey.vice.com/en_us/article/robert-christgau-expert-witness-leland-sundries 
"Heaps of wit and melody… Beautiful rambling storytelling that flirts with pop and sounds a little like Silver Jews." 
- Peter Watts, UNCUT, April, 2016 
"Scrappy yet ingenuous rock poetry." 
- MOJO, March, 2016 
"Loss-Eaton and company avoid predictability… upturned middle finger that resides at the center of their sound. Ultimately 'Music for Outcasts' finds truth in its title… Those prone to coloring outside the lines will have cause to give a decided nod of approval." 
- Lee Zimmerman, Relix, October/November issue 
"One of the more exciting roots-based bands to be unleashed in quite a while... This fellow knows his geography now. Both out in the rolling hills and inside his own heart and soul... One minute Leland Sundries has you weeping in your beer over the cowboy lament, 'Keys in The Boot,' the next they're rocking as righteously as The New York Dolls-inspired 'Bad Hair Day.' Throw in the radiant Power Pop of 'Apocalypse Love Song,' and you'll see there isn't a genre they haven't mastered. These guys have only one rule about the music they play: it has to sound authentic and cool. Which, a good damn portion of the time, it does." 
- Peter Gerstenzang, American Songwriter, May 6, 2016 
"Awesomeness." 
- Justin Cober-Lake, Pop Matters, June 2, 2016 
"Fine character-building." 
- Eric Davidson, CMJ, April 18, 2016 
"A killer record... The record has devoured my subconscious... creative wordplay... Witty and left of center, juxtapose from the norm, some fresh and fun genre-bending rock-n-roll...Loss-Eaton is a songwriter's songwriter, languid stories and never short on style... A tried and true summer soundtrack for yours truly, simply a record you can't grow not fond of. Each track a small ride to a cool destination." 
-Scott Zuppardo, No Depression, August 9, 2016 
"Superb." 
- Sjimon Gompers, Impose, March 11, 2016 
"We were instantly hooked. In fact, we're so impressed by the Brooklyn-natives to the point where we can't begin to effusively begin to heap enough praise." 
- Pure Volume, June 1, 2016 
"Life affirming… Leland Sundries' debut album and first European release shows a ton of promise and is a very enjoyable listen.  It will certainly appeal to fans of bands like Velvet Underground and Jonathan Richman as well as fans of bands like Whiskeytown and Starsailor." 
- Alan Ewart, Louder Than War (UK), February 16, 2016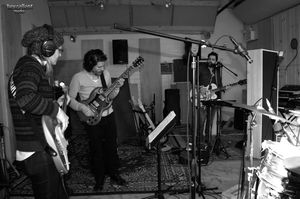 Nick Loss-Eaton recently moved to Memphis, TN, where the band is now based.
Crackling garage rock meets literate indie rock in a sound marinated in the extremes of New York City on Music For Outcasts, the full-length debut and first UK/European release for Leland Sundries.  It came out in June, 2016 on L'Echiquier Records and placed Leland Sundries in the context of bands that combine literacy with overdrive such as Silver Jews, Deer Tick, Jack Oblivian, The Hold Steady, Johnny Thunders, The Modern Lovers and Ezra Furman.  
Leland Sundries is the portmanteau under which frontman Nick Loss-Eaton and an ever-evolving roster of Brooklyn, NYC musicians produce the kind of careering, scrappy garage rock which has -via nascent EP releases- already earned the band nods from The New York Times and Time Out NY. Music For Outcasts itself was shaped by the aftermath from emergency open heart surgery. Fairly white-knuckle, stare-down-your-mortality fare for anyone, never mind someone barely out of their twenties, and a live-it-out experience which bears its blackly humorous mark across Music For Outcasts. 
Studio recordings were then made in an unheated loft studio in Nick's old neighbourhood of Greenpoint, in a former creamery building nestled next to a bridge between Brooklyn and Queens, much of it recorded on analogue tape. 
The surf-rock wash of 'Greyhound From Reno' zeros in on the pill-hazed, midnight exodus of a shady character skipping town. Whilst the track lampoons its sleazy, washed up protagonist, Loss-Eaton delivers its underlying inference direct to the mirror, written as it was at the tail end of his addiction; 'It's impressionistic, non-linear, but that sense you can't outrun yourself is palpable'. The track came eventually came together in aptly chaotic fashion during late-night recording takes; 'We turned out all the lights in the studio and it got weird. I sang and screamed until I went hoarse, and it felt like an exorcism of panic.' 
Elsewhere on Music For Outcasts, Loss-Eaton turns the microscope on his own scars with a similarly unflinching candour. 'Freckle Blues' (written whilst New York was holed up during Hurricane Irene) equates the elapse of time since a relationship's demise and the guilty aftermath. And yet beyond the more personal scorched earth the record rakes over, there is a wider resonance within the world of misfits and missed connections that Music For Outcasts inhabits. Fittingly for one who snatches fragments of lyric ideas from overheard conversations & glimpses into the lives of others, the characters and vignettes which Loss-Eaton summons here are so vivid as to become almost tangible. 'Stripper From Bensonhurst' mines far beyond the attendant stereotypes to chart the push/pull between a grim domestic semblance of normality far more intolerable to this woman than her nocturnal 'other life', whilst the taut, Spoon-esque snap and swivel of 'Radiator Sabotage' paints a world of burnt-out glamour as palpable as any of Lou Reed's succinct dispatches. Even the track titles themselves – 'Studebaker', 'Wallace ID' – function almost like projector slides, brief flashes of narrative which demand conjecture.   
Two studio EPs, a vinyl/digital 7" single, three music videos, and national US touring have already earned Leland Sundries praise from Pop Matters, New Yorker, Magnet, American Songwriter, Village Voice, Time Out NY, Baeble Music, No Depression, Blurt, and Boston Phoenix. The band has performed at Campout Fest (Joshua Tree, CA); taped a Daytrotter session; and shared stages with Spirit Family Reunion, Todd Snider, Marah, Eef Barzelay (leader of Clem Snide), Taylor Hollingsworth (of Conor Oberst & The Mystic Valley Band) and Cracker.